by Nick
September 9, 2018
Hero has finally unveiled Xtreme 200R. Priced at 89,000, the Hero Xtreme 200R is available at the same price in the eight North-Eastern states as per information on the company's official website. Let us get straight to its specifications and review.
I will start with its digital speedo. With a reading of 105mph, it is neither excellent nor bad. The single-cylinder motor comes with 199.6CC and it is not a phenomenal feature. In fact, we have seen better models in the same league. The inevitable question is how the Hero two-wheeler will cater to the rising demands of the target consumers.
Let's talk about its details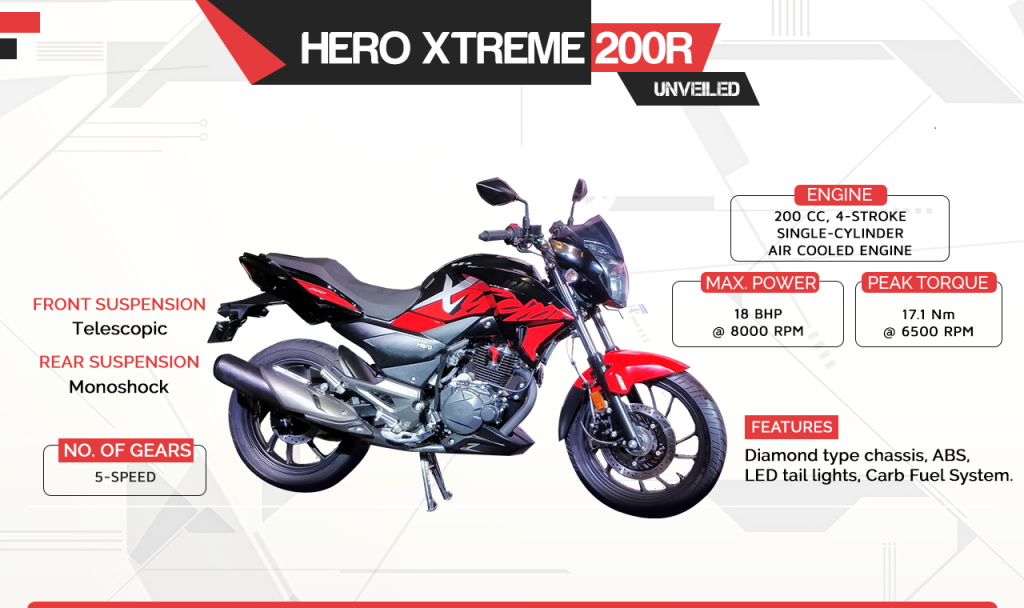 The Xtreme is a much-improved model if compared to 149cc Xtreme Sports. The motor is more powerful and much improved from the previous version if we wag our glance over the spec chart of the Achiever 150. The Xtreme 200R offers a remarkable increment in outputs – 17.1Nm of torque at 6,500rpm and 18.4hp at 8,000 rpm. The motor is free of gimmick and a traditional, air-cooled and carburetted unit.
The output figures sound impressive in isolation. But TVS Apache RTR 200 4V and Bajaj Pulsar NS200, touted to be the close competitors of Hero Xtreme 200R – have an edge over it.
A thumb of the starter button brings the motor to life. The motor is significantly refined and that is a great feature of this Hero roadster. The nondescript snick into the first gear feels great and releasing the clutch, it unveils a peppy two-wheeler.
Hero has made it clear from the very beginning that Xtreme 200R is designed for torque and a stylish ride. A street-racer approach, which is flaunted by Pulsar and RTR, is conspicuously not a part of Hero Xtreme 200R. However, it emerges as a more powerful and performance-packed commuter.
Every one of us is fond of the fast drive. It is uncompromisingly fast but extremely stable. From that perspective, it has every making to be a likable motorcycle. A handlebar is a traditional unit and the pegs are comfortably anchored at the rear part. It is a single piece seater though the riding position is truly excellent. The motorcycle is cleverly designed to offer outstanding leverage.
If toys still fascinate you, the Hero Xtreme 200R will not fail to excite you. It features a simple digi-analog instrument cluster, a trip meter, an analog tachometer, a digital fuel gauge, an odo and a blue backlit screen equipped with a speedometer. Unfortunately, it does not have a gear position indicator.
A group of tell-tale lights is placed above the digital screen. One of them, a tiny circle in orange, is a standout among them. It reads ABS. Some readers may recall that it is the first ABS-fitted motorcycle from the stable of Hero. Its braking mannerism is truly superb. The combination of a 100/80-17 front tyre, a 276mm disc, and a 37mm fork is really great and results in an excellent braking performance.
Braking is neither too sensitive nor too sharp and feels good for daily use. A steel braided hose is added to the front brake and it is an excellent feature.
Nick is a content writer and very much interested in new findings in the automobile industry.